UHS MDCAT SYLLABUS 2019 pdf download
UHS MDCAT SYLLABUS 2019 pdf download
This is UHS MDCAT SYLLABUS 2019 pdf download officially updated by University of health sciences Lahore. UHS conducts mdcat test each year for students who want to take admission in public sector medical colleges of Punjab. Each year there are about more than 70000 students who appear in the mdcat test. MDCAT SYLLABUS 2019 has been uploaded by the university and you are at the right place to download it.
UHS MDCAT SYLLABUS 2019 Experts Overview
An expert overview of UHS
MDCAT SYLLABUS
2019 reveals that it's same as MDCAT SYLLABUS 2018. Unlike 2018, UHS does make a lot of changes in MDCAT SYLLABUS 2019. Expert Teachers of
KIPS
, Star, Unique and City Science Academy consider it reasonable for students. Associate Professor of chemistry, Professor Imtiaz Ahmad Gondal calls it reasonable and simple for willing students.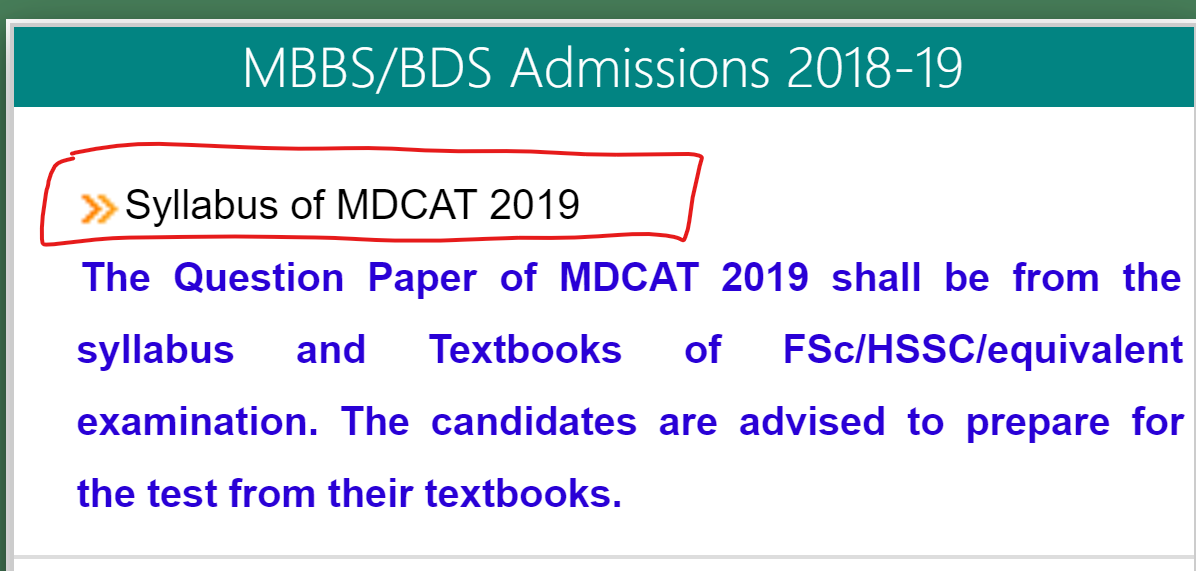 Download UHS MDCAT SYLLABUS 2019 in pdf format
Now you are at that phase of the article where you can get
UHS MDCAT SYLLABUS 2019
in pdf format to download and starts the study. Remember that if you need any help just drop your email at
info@mdcatforum.cf
and we will be there to help you out. Please share this to support us and keep visiting our site for latest news and study stuff for MDCAT,
NUMS
,
FMDC
and other entrance tests for medical students. Click on the link below to download it.
Thanks for reading. Keep visiting for latest news because
EDUPAKISTAN
is a blog on admissions, FMDC, MDCAT, NUMS and merit lists as well as past papers.